Chronicles of my Horse
Ning Network Spotlight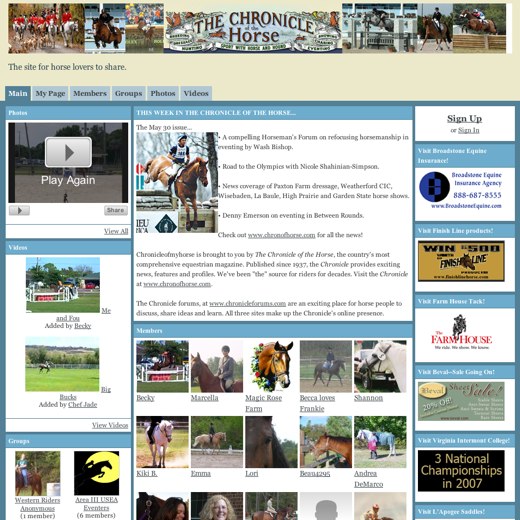 Chronicle of My Horse is a network created by one of the United States oldest equestrian magazines, The Chronicle of the Horse. Since 1937, The Chronicle of My Horse has been publishing comprehensive news and features about the equestrian world and with this new network they are moving into the 21st century and offering readers a new way to connect!
On the front page of the network, they use a text box to feature information from the weekly magazine, with links back to the magazine's Web site for the full articles. At the same time they are able to feature content that's been provided by members. They've moved the photo slideshow to the upper left corner of the page, providing a wonderful glimpse into the competitions, training regimens and lives of their members.
With the "Run Your Own Ads" premium feature, the magazine has also been able to get their regular advertisers involved. They use the same size ads as they do on the magazine site, allowing advertisers to supply one ad for either the magazine site or the network!
The more than 3,000 members actively blog and contribute photos and videos. This is a great example of a magazine that's taking advantage of technology to engage readers in a new way!