Cleveland High School's online reunion
Ning Network Spotlight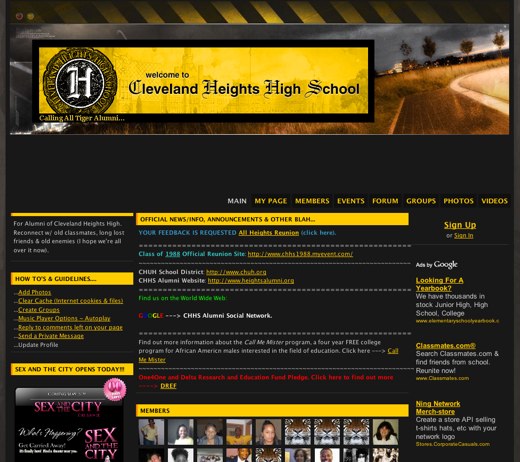 Calling all Tiger Alumni!
With a sweet custom header, logo, and page design the Cleveland Heights High School Alumni Network brings back those fond memories we all had in high school. Yup, the days of homecoming, pep rallies, and ditching class may be long gone but the friends and memories made at CHHS will never change!
The CHHS network has everything you need whether you're a recent grad or if you're now a nostalgic dad. Class of '08 submit your graduation photos for the class slideshow and celebrate the past four years you spent as a Tiger. Don't worry class of '88, we haven't forgot about you; You can see where the official reunion party is happening in the events.
If you can't make it to the reunion, you can still find your old friends in the groups section. Don't worry, this time it won't be as cliquey as it was in high school. Of course you can find people who were in the same sports team or club as you, but now you can also find alumni who are currently in the same profession as you— a great tool for networking — or seeing what your high-school sweetheart is up to these days. If you're more of a visual person, check out the photos section and see over 5,000 pictures of Tiger Alumni over the years!
Starting to rekindle that Tiger pride? Then join the CHHS Alumni Network today!