Connecting with The Word
Ning Network Spotlight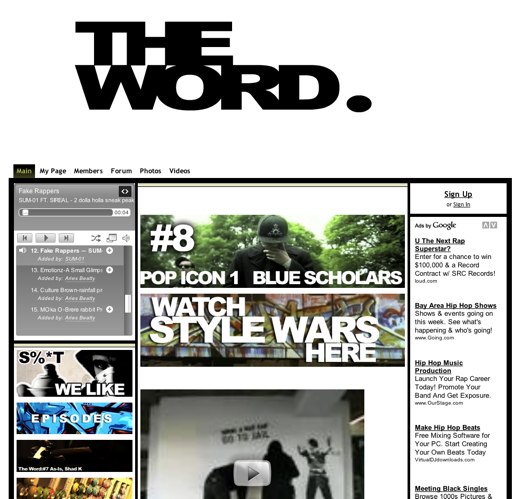 Purveyors of hip-hop style have a home and more on The Word. Network creator Syd Woodward has done a great job of tricking out the network to reflect one of the most "versatile and impassioned cultural phenomenae."
It has a sleek style and is very interactive and engaging. When you first get to the main page, you're hit by a random track from a queue of underground hip-hop artists. This sets the stage to browse this hip network. There is a lot of content here to absorb! What look like decorations on the left side of the main page are actually thumbnails for a series of artists, e-zines, and magazines that are connected through hiphop.
The network revolves to some degree around a series of episodes appropriately named, The Word. Watching the first will probably help you understand what The Word is all about. This network is devoted to the culture of hip-hop, and threading it all together. The photos page is a good example of some hiphop art that goes beyond the music. If you're looking to learn more about the scene or maybe see a music video you can check out the forum page where members post anything and everything about their projects and those of others.
Chill out and browse this network. Watch some videos, listen to some music. Maybe you too will become inspired and start to spread The Word.