Dance and Culture Come Alive at FolkloricoOnline.com
Ning Network Spotlight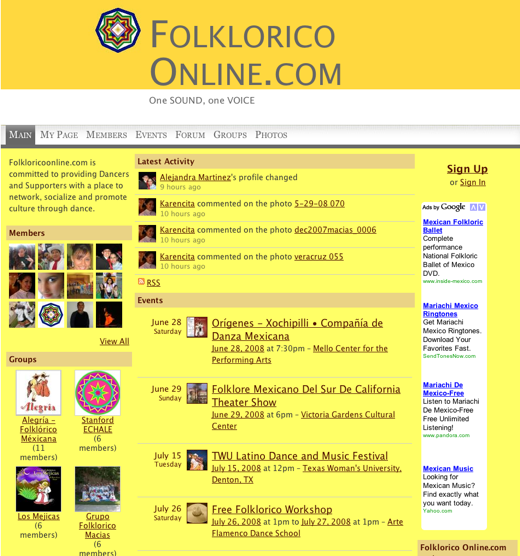 Combine a passion for culture, music and dance, and you get FolkloricoOnline.com.
Folklorico means 'folk dance' in Spanish. Each dance represents Mexico's regions, history and culture. Dancers are beautifully dressed in traditional, colorful costumes, each telling tales of Mexico's history's past. Dances are often performed accompanied by the lively mariachi bands at parties, fiestas and family gatherings.
Network Creator Luis and members all share a common love for Mexico's traditions of the past, expressed through music and folk dances. Members take advantage of the groups feature to showcase their local dance companies. They connect and network by using the forum to provide tips and ideas and share their stories and experiences as dancers. Luis's comment wall is filled with heartfelt thank you notes like the one left by a member, "Mil Gracias Luis — for having the insight to bring us all together to share the spirit of dance. El amor a nuestra cultura es tan rico y lleno de pasion! I love who I am for what I can do to express my Mexican heritage through dance. Viva el Mundo Folklorico!"
Feast your eyes on hundreds of photos like the spectacular ones from the slide show below. To fully experience this celebration of lively color, music and festivity, mark your calendar for these events and join FolkloricoOnline.com.