Driving improvement in manufacturing
Ning Network Spotlight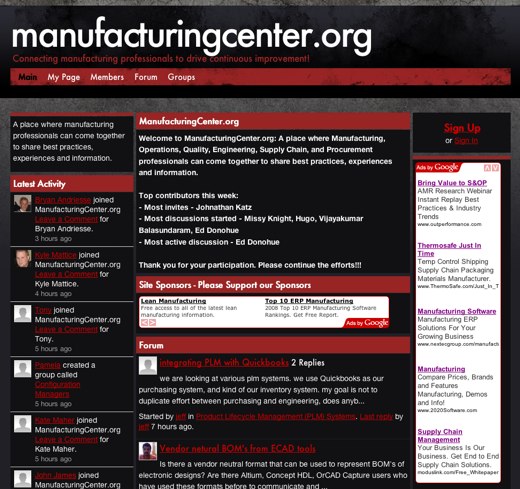 The manufacturing industry just became a little more high-tech, with the creation of ManufacturingCenter.org.
The network, created by Paul Patterson, is "a place where manufacturing professionals can come together to share best practices, experiences and information." And it's certainly living up to its lofty ambitions.
Patterson has taken advantage of the ability to easily add RSS feeds to his network, which allows ManufacturingCenter.org visitors to quickly browse the most recent manufacturing-related headlines from around the world on the main page. The nearly 500 members have been quickly filling up the network's forum with dozens of discussions.
Members can participate in any of the discussions going on in the outsourcing category, or share advice about how to combat the recent surge in fuel prices around the globe. Members can also find tips from industry veterans about staying competitive through new product introductions. The network even has a forum thread about jobs in the manufacturing industry, helping to truly transform the network into a one-stop for industry professionals.
Spread the word and join the discussion!