Finding your groove at My Dance Chat
Ning Network Spotlight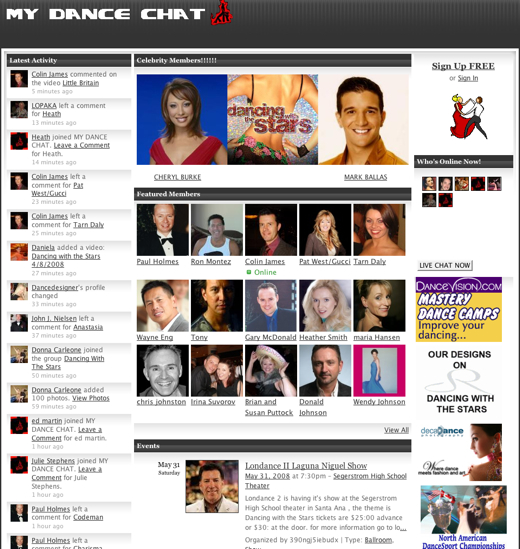 Folks, lace up lace up your dance shoes and get ready to get your groove on at My Dance Chat, the ultimate social network for ballroom dancers across the world.
You've seen choreagraphers like Wayne Eng and Mark Ballas on 'Dancing with the Stars' — now meet other choreographers, dancers and fans across the world show you how to move! With more than 1,200 members, 115 videos and 350 music tracks, My Dance Chat is about becoming the best dancer you can be.
With exclusive interviews with world-renowned dancers, the video section is filled with educational how-to videos as well as fun recaps of your favorite dance television shows and music videos. From dance lessons for professional dancers to children the events section is a great resource for finding a dance class for you. Looking for a party to show off your new moves? Stop by the Cheryl Burke Dance Welcome Party to meet world renowned Cheryl Burke and celebrate her new dance studio and the hippest new ballroom in San Francisco!
Network Creator Jarrett Gucci has done a great job of adding a slew of sweet features to the network to enhance your dancing experience. The main page showcases celebrity featured members that you've seen on television, an instant messaging chat room and a play list of the top-100 ballroom jams to dance to.
Does that get your feet moving? If so, don't miss a beat and join the My Dance Chat network today!