Food and wine at Garlicoon
Ning Network Spotlight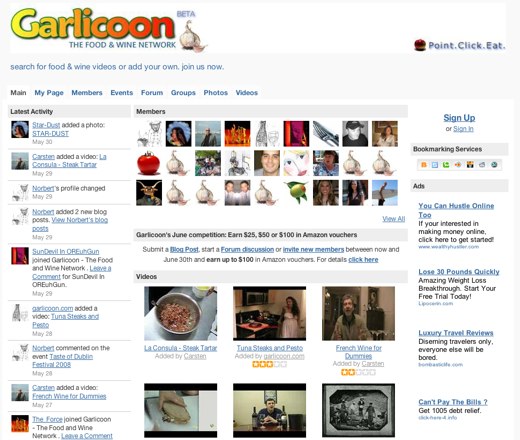 Do you love to cook? Or maybe you're attempting to learn how to, but don't know where to start. Even if you're simply hungry and need inspiration to decide where to eat out, drop in for a visit at Garlicoon.
Garlicoon, the food and wine network, is a place for cooks to connect around the globe. Members can post photos of their delectable dishes for all to appreciate. If they're feeling extra generous, they can share their culinary secrets with aspiring cooks through videos. Professional chefs, hobby cooks and food critics can learn from one another.
If you're like me, you love experimenting with new recipes. With groups, you can connect with other foodies who share your passion for Italian cuisine, fresh salads, home made pizza, or even do-it-yourself energy drinks! Often times, recipe sites can be too overwhelming and impersonal; Forums are a great place to learn, ask questions and interact. If all this isn't enough, learn about food and wine festivals taking place around the world and let your taste buds rejoice.
At the very least, spend a few minutes browsing through the delicious photos of edible masterpieces at Garlicoon — it's more than enough to get your mouth watering!