Getting a daily dose of Kush
Ning Network Spotlight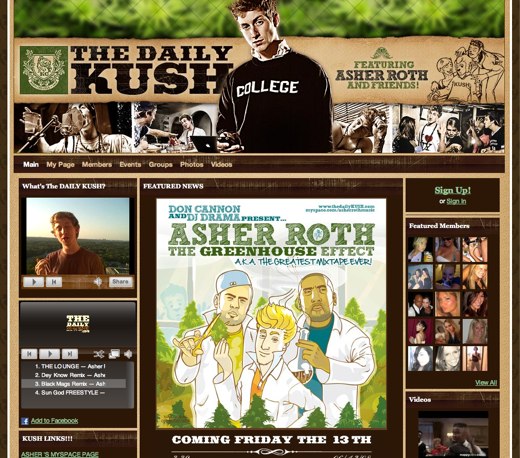 Beats dropped with ease and rhymes that roll like the breeze, Asher Roth is blowing up the hip-hop scene, and making it happen on The Daily Kush. Asher has a style unlike that of many hip-hop artists. His rhymes range in topic from his family life to Harry Potter, and everything in between. And this is the only place where you can find the exclusive releases of new songs and videos for this up and coming artist.
The Daily Kush network is tricked out to the maximum extent of tricking. The network has a great look and feel to it. If you navigate to the main page, Asher Roth explains what his network is all about as you listen to one of his tracks play. The photos and videos pages give you a glimpse into Asher's life and the lives of his members. This network is growing almost as fast as this artist's fan base. Keep checking back for new music and updates as things change.
In his song THE LOUNGE (the first song in the embeded player on The Daily Kush), Asher reexamines the cultural meaning of being a "rapper." Is it defined by life experiences? Is it how you were raised? Does your family life matter?  Does your appearance matter?  Whatever the answers be, Asher Roth is the real deal. Check him out at The Daily Kush!