Hand-made's tale
Ning Network Spotlight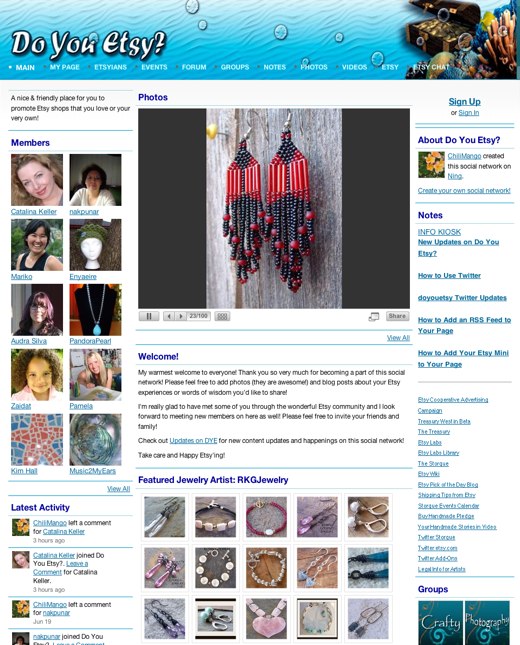 Do You Etsy? is a social network that supports all Etsy sellers! Network Creator ChiliMango started the network in order to create a place "for Etsy sellers to gather for support and for promoting their arts and crafts."
We spoke with ChiliMango, hoping to get some insight into how to run a network.
What motivated you to start this network?
I've always loved handmade crafts and when I found the wonderful world of Etsy, I was instantly hooked. I wanted to create a social network where Etsy sellers have a place to exchange ideas and tips and promote their work. Ning offers a great platform for a social network like Do You Etsy? Its easy usability was what drew me to create my social network.
What is your vision for your network?
I'd like to see Do You Etsy? Keep growing in members and I hope that it becomes a place for online resources and support for artists and crafters.
Which Ning feature does your network take the most advantage of?
All the features are wonderful and I try to make good use of them as much as possible. Our photo slide show currently showcases over hundreds of handmade items made by our members. Etsy related RSS feeds are also great to have as they keep members updated on current news in the world of Etsy.
Which Ning feature do you, as a Network Creator, take the most advantage of?
I try to regularly update the social network and use Notes to keep an archived list of updates made. Using Notes, I also love to write up instructional How-To's such as on how to use Twitter or RSS feeds.
How does your network help members sell their crafts on Etsy?
Most members upload photos of their handmade products and their profile page also links to their Etsy shop. Each month, we have a featured artist displaying current items being sold on their Etsy shop.
What is one of the most surprising things that has happened as a result of your network?
I first created this social network as a test, but it is evolving to something more special than that. And getting blogged by Ning is a pleasant surprise as well!
Whether you are an Etsy veteran or an arts and crafts newbie, Do You Etsy? will provide you with fantastic tricks and discussions that are sure to boost your Etsy sales!