Hanging out at Cafe Chronique
Ning Network Spotlight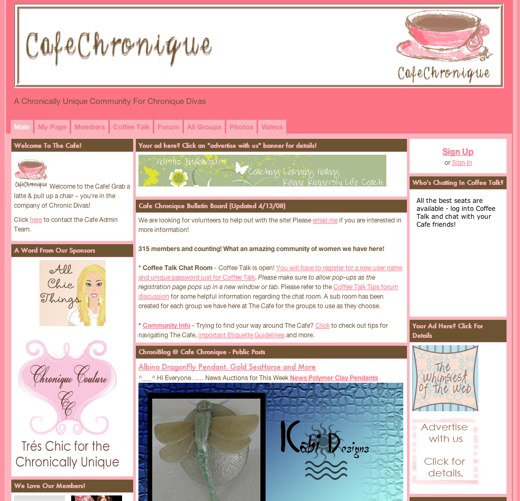 For all you beautiful women who are chronically unique (rather than chronically ill), Cafe Chronique is the perfect place to congregate. Cafe Chronique is Chronique Couture's network for divas with chronic illness. Founded by a woman diagnosed with Multiple Sclerosis, Kimberly Flynn, Chronique Couture revolves around a very simple concept: women living with chronic illnesses still want to look and feel fabulous!
Self-proclaimed "Chronic Divas" embrace their conditions and make the most of it, looking terrific every step of the way. Engage in the forums to share your favorite resources about chronic conditions or drop in for a chat with other Chronic Divas at Coffee Talk. Share your most inspirational photos and videos. If you're looking for a more specific community, join some of the many active groups such as Fibromytes Unite, AutoImmune Disease DIVAS, or Sick Chick Authors and Writers. Whatever your condition or interest, a Chronic Diva is sure to fit in.
If you're a hip, fun and fashionable girly girl living with a chronic condition, check out Cafe Chronique today!