Have a ball at Blythe doll
Ning Network Spotlight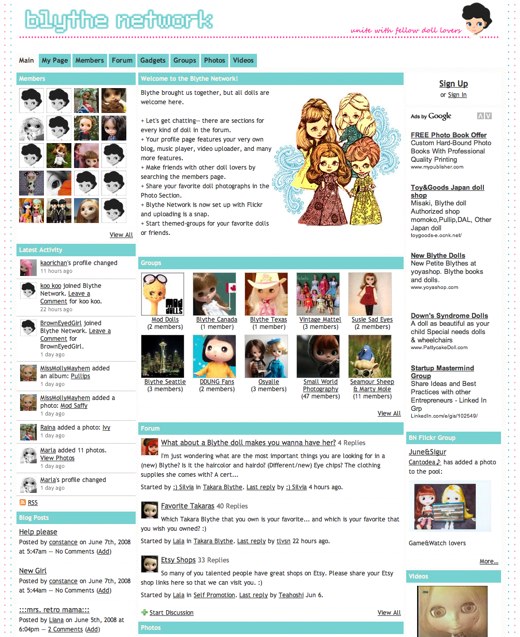 Blythe Network is a whimsical network for Blythe fanatics everywhere!
For those unfamiliar with the Blythe craze, I'll briefly run through the unique history of these dolls. Created in 1972, Blythe dolls were only on the market for one year because "children found the large eyes that changed from green to pink to blue to orange with the pull of the drawstring at the back of Blythe's head a bit on the scary side." Twenty-five years later, Gina Garan, a video and TV producer, used a Blythe doll to practice her photography as she traveled around the world. Ultimately, her photos sparked a unique campaign, the extreme popularity and the rampant return of the Blythe doll.
Even if you're not a Blythe fan, check out the Blythe Network! Unsurprisingly, members have more than 6,000 photos. The vast majority of the photos are of the dolls and dolls alone, staying true to Gina's style. The most avid collectors have a large wardrobe of clothes for their Blythe dolls! There's even a Blythe Clothing Swap to make sure that your girl always has something new and interesting to wear. If you'd like to see where it all began, check out the commercial from 1972.
What's most fascinating is how much personality each doll has. A Blythe doll seems to take on its own unique style and personality as members customize its look with changes in wardrobe, accessories, hairstyles and even eye color! Blythe dolls are clearly an outlet for artistic expression for many members. One member, Béni Rivière, moves past photos, taking the time to create a short stop-animation film.
Even if you're not a fan of dolls, the Blythe Network just may be able to change your mind!