He's an American Idol to them
Ning Network Spotlight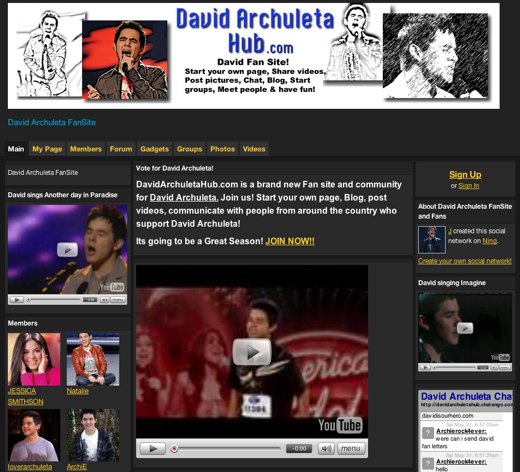 For months now, there's been a contest going on in America. It's pitted one candidate of incredible grit and talent, against another, younger rival. Supporters have been fervent on both sides, voting for their candidate by the millions.
But this isn't the presidential primary — it's American Idol season!
And American Idol fans may just give Obama and Cliton supporters a run for their money, especially fans of American Idol runner-up (and younger candidate) David Archuleta. They're such devoted fans that they've set up a network, the David Archuleta Fansite.
Archuleta made it through the entire season of the intensely popular show, narrowly losing to rocker David Cook in the show's final episode. Of course, that wasn't the outcome his fans were hoping for. There have been more than 60 posts in a discussion debating the two Davids, with most fans in disbelief that the younger David didn't pull off a victory.
But that hasn't dimmed the glow of the 17-year-old singer in the eyes of his fans. Members of the network have posted videos of Archuleta's performances on American Idol, as well as tribute videos to the singer. Photos of David and his fans, of course, are plentiful as well.
The forum is the most popular place on the network, and the topics discussed run the gamut of Archuleta-related news. Some discussions have focused on his personal life, while others debate his true vocal talent. 
One thing is for sure: Even though American Idol may have ended, Archuleta's career is just beginning its rise. And his Fansite will be right there with him.