Hitting the slopes at Snowboarder Community
Ning Network Spotlight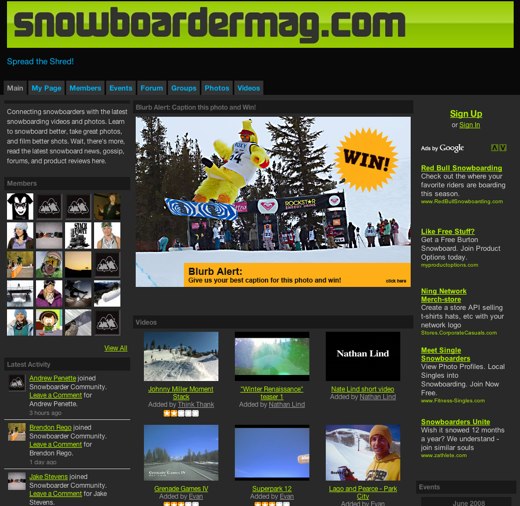 Snowboarder Community is a network to connect snowboarders everywhere through the sharing of videos, photos, gossip, product reviews and tips. With more than 150 members, boarders are sure to find other enthusiasts who share their passion for riding freestyle, freeride, rails, halfpipes and everything in between. 
Whether you're a beginner or extreme boarder, there's something for everyone. Even goofy footed riders (those who ride with their right foot forward) can mingle by joining Goofy Footers United. On those rare occasions when you've torn yourself away from the slopes, indulge and take yourself back by viewing some of the incredible videos. Discuss your favorite resorts and share insider secrets on the forum.  
Have a knack for creating witty remarks to bizarre photos? Enter the Blurb Alert Contest to win a limited edition ogre t-shirt, sticker pack, and other goodies from SNOWBOARDER magazine.
Whether you're an aspiring or avid snowboarder, Snowboarder Community is the network to join!