Kid Rock comes calling
Ning Network Spotlight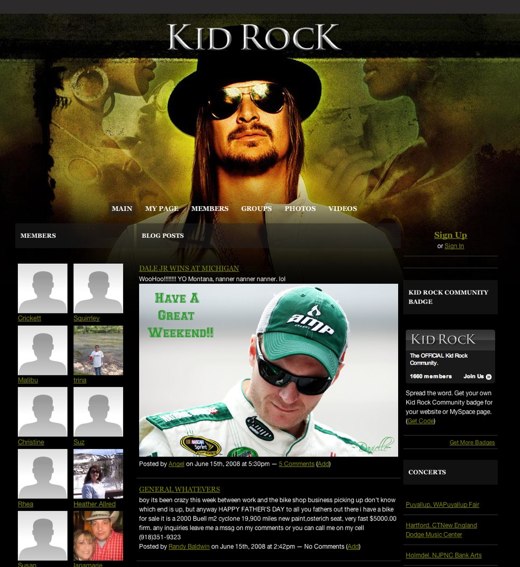 Some people naturally attract a crowd. Kid Rock is one of those people — and he's proving he can attract a crowd online too.
The Kid Rock Community — the artist's new social network — has become, in one short week, the best place for Kid Rock fans to interact. Since the public release of the network, more than 1,600 members have joined. Of course, with a social network, there's no lack of ways to interact.
Members have taken to communicating directly with one another by leaving comments on each other's comment walls. Many members already have a smattering of welcome messages from friends and fellow fans.
The network also places a heavy focus on blogging, thanks to the prominence placement on the module at the top-center of the network's main page. Randy Baldwin blogged about random thoughts of the day, while KevRock used the feature to write his fourth volume of "Dearest Kid Rock." And when Tracy blogged that Kid Rock had been to the hospital, 14 members hopped on to express their sympathies and send Kid Rock their best get-well-soon wishes.
Groups are popular on the network as well, with more than 50 members joining Detroit Rock City and 22 members renouncing the current presidential slate and declaring their support for Kid Rock for President. The photos and videos section is definitely worth a look as well — you'll see no lack of Kid Rock appearance.
One of the best parts of the network isn't actually a feature, it's the seamless integration of the network with Kid Rock's main Web site. With some simple CSS and images, Kid Rock has built his social network to perfectly match his Web site's look. Furthermore, by taking advantage of Ning's premium service "Domain Mapping," visitors don't even leave the kidrock.com domain.
If the last week is any indication, Kid Rock Community had better brace for the huge crowds to come!