Know your Neighbors
Ning Network Spotlight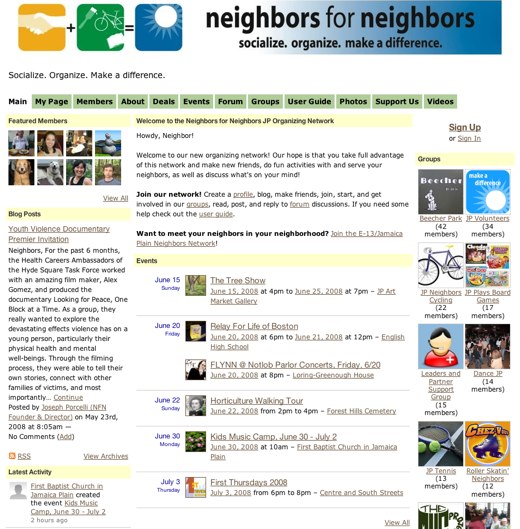 Neighbors for Neighbors is a network for people who live in Jamaica Plain, Massachusetts. Join this motivated and passionate network that hopes to make their neighborhood a safer and better place to live.
Network Creator Joseph Porcelli, also the Network Creator of the Mug Project and E-13/Jamaica Plain Neighbors Network, created the network to provide a place for the residents and businesses and organizations of Jamaica Plain, Mass. to connect with each other. Many events have been posted in order to bring the neighborhood closer together! Get your kids together for the Kids Music Camp while you take a Horticulture walking tour, or bring the entire family together at the 10th Annual Lantern Festival.
Forum discussions are highly active with topics ranging from community supported agriculture to a local yoga studio. Join groups of neighbors that share common interests! Find a volunteer opportunity, care for Beecher Park or simply get together with your neighbors for a friendly board game!
Whether you are a resident, business, organization or simply someone who wants to see a great neighborhood come together, Neighbors for Neighbors demands a closer look!