La haut culture à Lady Caprice
Ning Network Spotlight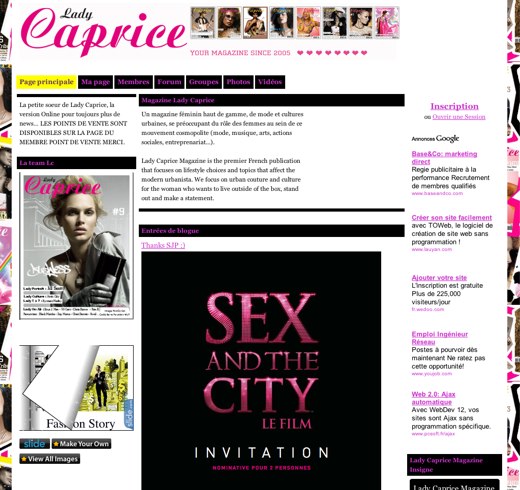 Bonjour! Et bienvenue a Lady Caprice!  This well-put together network is the place for chic, hip members of the fashion community to discuss current styles, trends and fashion expositions.  The editor-in-chief, Emilie Janin, calls Lady Caprice Magazine "the premier French publication that focuses on lifestyle choices and topics that affect the modern urbanista."
The main page of Lady Caprice has side bars filled with pictures of the magazine.  It gives the network a stylistic overhaul worthy of the fashionable French magazine. Members of Lady Caprice are active in sharing their opinions about modern styles.
One member began a discussion about the future of sneaker fashion in 2008.  Fashion is all about getting the perfect look.  On the photos page, members of this network have truly found it!  Here you can see models showing off their savoir-faire, with wild styles and bumper stickers that read I love nothing (I'm from Paris).
If you want the newest styles direct from France, brush up on your Français and jump in.  Peut-etre, er, maybe you've got a little Lady Caprice in you!