Life in Khmer City
Ning Network Spotlight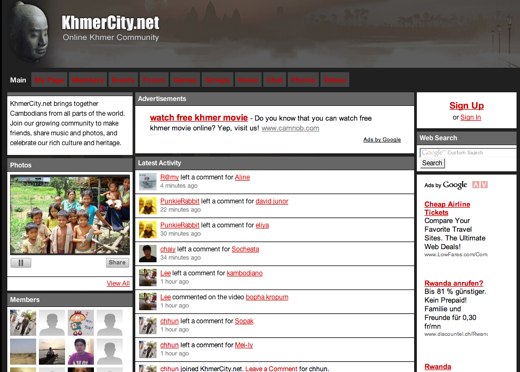 Khmer City is a social network to allow Cambodians from all around the world to make friends and share in their culture.
Network Creator, Oudam, took the time to tell us about his experience with Ning and creating his very own social network. His passion for his people and his network are obvious. "I'd stress the role of the internet as a unifying medium for a proud, intelligent and dignified people victimized by one of greatest human tragedies of all time," he said.
How did you hear about Ning?
I learned about Ning while exploring options (through Googling) for creating an online community for the Khmer diaspora throughout the world. After careful consideration of hosted and non-hosted solutions, I felt Ning offered the best combination of social networking features, architecture, and support.
What is your favourite feature?
My personal favorite is the forum which exists in the context of a social network. As opposed to stand-alone forums, the Ning forum fosters a climate of friendship and respect and discourages anonymity, flaming, harassments and other abusive practices often associated with internet message boards.
How have your members reacted to the network?
Many of my fellow Khmers have expressed great excitement and gratitude that an online community is created to bring together Cambodians from all over the world to make friends, share music and photos, and celebrate our rich culture and heritage. In just six months since its launch, Khmercity.net has reached the 1000-member milestone.
What have you found most surprising in the process of creating this network?
I was surprised how little time I had to put into maintaining and tweaking the site to ensure that it runs smoothly, allowing me to devote more time to content development.
Have your members met each other outside of cyberspace?
Some of my real-life friends are also members of Khmer City. One member wrote to thank me that Khmer City has enabled him to find his soulmate! They are set to be engaged, but I'm not sure if they have met offline, yet.
What is your vision for your network?
As a "survivor" of the genocidal Khmer Rouge regime, I've always had a penchant to help my people and my native country Cambodia in some way. Having grown up mostly in U.S. and as a full-time web developer, this is the only way I know how to contribute. Presently, Khmercity.net serves mostly to bring together Cambodian people scattered all over the world to chat, make friends and share photos and ideas.
My vision for Khmer City as it continues to grow, through increased membership, exposure and recognition, is to use it as a vehicle for positive changes within Khmer communities worldwide and to contribute to the rebuilding of Cambodia, which in many ways is still reeling from a very tragic recent past.
With the passion that guides Oudam, we, no doubt, look forward to great things from Khmer City.