Looking better, feeling good with kinetix
Ning Network Spotlight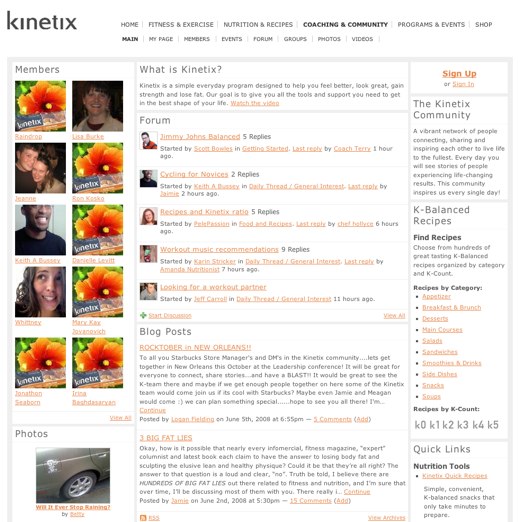 Kinetix is a simple everyday program designed to help you feel better, look great, gain strength and lose fat. But it's much more fun to share the joy of increased fitness with others, so Kinetix set up the Kinetix Community.
Kinetix Community calls itself a "vibrant network of people connecting, sharing and inspiring each other to live life to the fullest. Every day you will see stories of people experiencing life-changing results." The network works hard to inspire its members to eat well, which can be seen from the helfty list of recipies that are accessible in the right column of every page. Healthy desserts, soups or sandwiches, they've got it all!
Of course, this is a social network, so the information flow goes both ways. On the network, there is an entire forum category devoted to food and recipes, where members can add and debate their favorite healthy meals or snacks. One of the most popular discussions is about your favorite breakfast, with more than 35 replies. Yet, you'll also find niche discussions about topics like the costs of sugar-free eating and quickie foods.
Increasing strength and general physical fitness is important as well, so members are also greeted with a list strength excercises — different ones for Monday, Wednesday and Friday — and are encouraged to track their progress in downloadable journals.
One of the major focuses of the network is, of course, general physical fitness. Accordingly, members have uploaded numerous photos demonstrating what activities they use to keep themselves fit or just fun pictures of their friends. They've also utilized the forum to discuss fitness, such as the start of hiking season.
So if you're using Kinetix to stay fit and lose weight, don't miss out!