Love your body, love yourself at Cupcake Cuties!
Ning Network Spotlight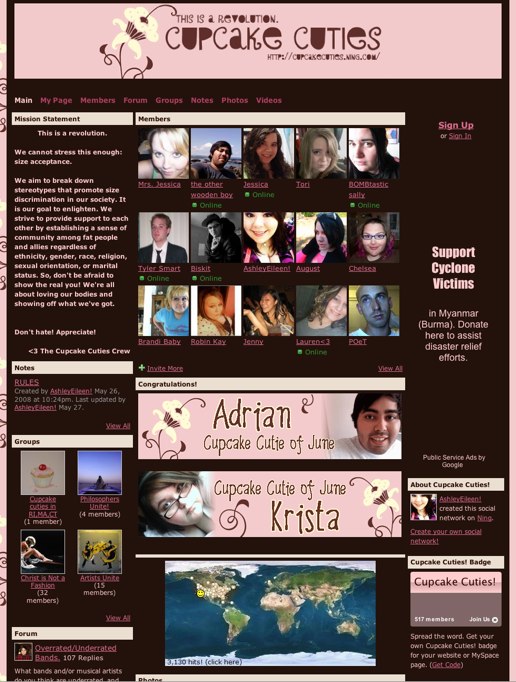 Cupcake Cuties is a supportive network that promotes size acceptance and aims to break down size discrimination in society.
Ashley Eileen, an ambitious 21-year-old, created Cupcake Cuties to start a revolution. Members unite regardless of ethnicity, gender, race, religion, sexual orientation, or marital status, learning to appreciate themselves and each other. In a day and age when body image issues run rampant, it's refreshing to see a network that is "all about loving our bodies and showing off what we've got!" With the goal of promoting positive body image and encouraging everybody to embrace their body, whatever the type, members love themselves inside and out.
Cupcake Cuties honor one another by nominating and voting for a male and female Cupcake Cutie of the month, who gets the privilege of being displayed on the main page! With 524 members and growing, it may become more and more difficult to just pick two each month! They use the forum to arrange for further bonding outside the network through AIM chats. It's plain to see that Cupcake Cuties have formed genuine relationships as they post personal, affectionate and heartfelt blogs.
Reach beyond the superficial and learn to love yourself through thick and thin at Cupcake Cuties today!