Matching personalities at iPersonic
Ning Network Spotlight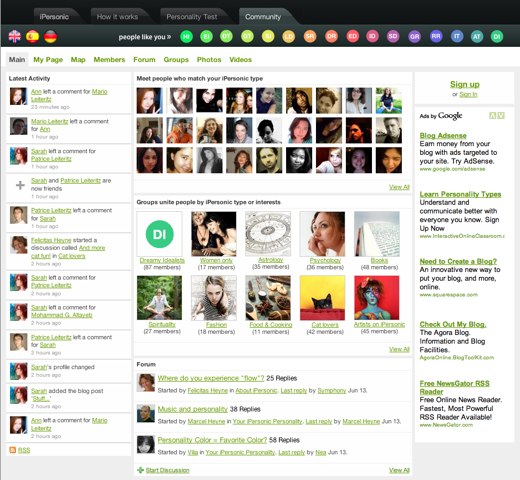 The iPersonic community takes networking a step further; rather than simply connecting people through shared interests, careers, locations, etc, iPersonic will connect you with members who match your personality type.
Based on a personality test he and his wife (a psychologist and author) developed, Network Creator, Marcel Heyne, describes his network as a "unique community that connects you with like-minded people in more than 50 countries."
Marcel describes his motivation and beautiful vision that started it all:
"One day we thought: what would happen, if we share the test with the world? Would it work on a global basis? Would it help to build bridges between people and cultures? We thought that it would be intriguing to see that there are people of your kind – in different countries and cultures, speaking other languages."
After iPersonic experienced a successful launch in Germany two years ago, Marcel and his wife "tested the test" on Facebook as a simple application. The test was well received and they knew it was time to create a network on Ning. Today, with networks in English, Spanish and German, iPersonic boasts more than 2,000 members across 50 countries. Every language version has its own world map where people can locate other members based on iPersonic's color coded typology.
And how does Marcel feel about the progress of iPersonic on Ning?
"I absolutely love this project, I love the enthusiasm of our members and the feeling that we are bringing people together. And I really like NING. Since 1996 I've developed various communities here in Germany, ranging from the leading European TV Broadcaster to Hewlett-Packard Germany and including some large B2C Communities. It was quite stunning to see what today's technology offers. I can now create a project just by myself (instead of being dependent on several programmers and a server infrastructure) in a fraction of time. Wow."
Marcel and his wife didn't do this alone — credit also goes to the wonderful members of iPersonic who have helped translate the test. Don't fret if English, Spanish and German aren't your languages; getting the test translated into more languages is in the road map!
iPersonic is a unique and free personality test for the world. In just five minutes, it can help you find people like you anywhere on this planet. If you'd like to incorporate personality types using a gadget on your network or page, check out Marcel's post here. After all, can't you spare 5 minutes to bring the world a bit closer?