Meeting other James Patterson fans
Ning Network Spotlight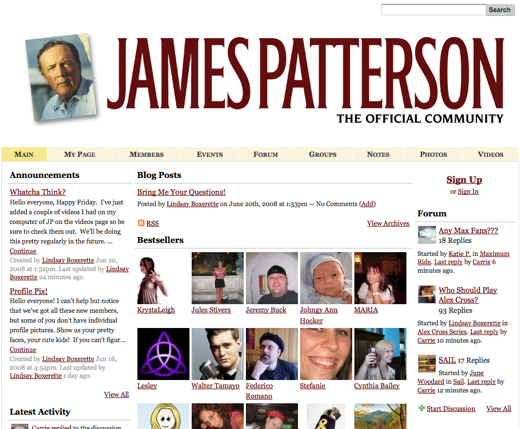 According to Amazon.com, one of every fifteen hardcover novels sold last year was a James Patterson title.  His numerous novels including Along Came a Spider and the Women's Murder Club series has earned him a New York Times bestsellers list record with 39 New York Times bestselling titles overall.  So it may come as no surprise to hear that the best selling author has his own social network at the James Patterson Community.
What do members of a social network for James Patterson do?  Meet other fans, of course!  There are currently groups to discuss everything from the Women's Murder Club TV series to whether Sail is his best series yet.  You can watch videos of Patterson answering questions and upload your own multimedia. And according to his official website, "James himself will be dropping in from time to time to read your posts and answer your questions."  The key to a dynamic social network is unique, exclusive content, and you really can't get more exclusive than that.
If you're a proud owner of one of the 150 million copies of James Patterson's books worldwide, join the James Patterson Community!