Must love dogs!
Ning Network Spotlight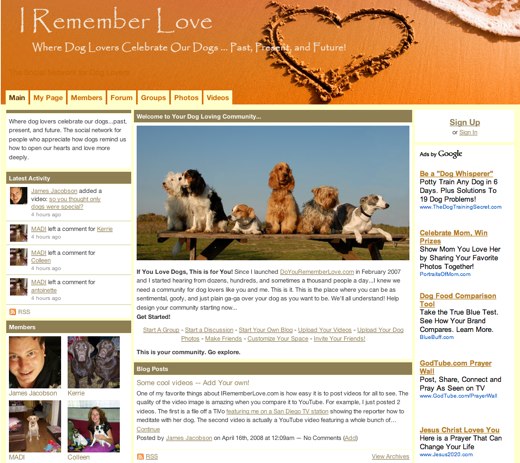 For many, including myself, dogs aren't simply animals or pets. Dogs can be your best friend, your most loyal companion and a family member, all wrapped up in one! At I Remember Love dog lovers can celebrate their love for their four-legged friends.
I Remember Love is a network for people who appreciate how dogs remind them how to open their hearts and love more deeply. This may sound silly to someone who has never developed a special bond with a dog, or any pet. What can a dog really teach a person? Plenty. Members share true stories of inspiring dogs that may just be sweet enough to convince the biggest skeptic.
Members also reach out to each other through groups. Prayers for my Pup is a supportive group for those with suffering companions. Some mention the embarrassment or discomfort they feel when they talk about their furry loved ones that fall on hard times, but with more than 500 members, I Remember Love is the perfect outlet to voice whatever you may be feeling!
Members are encouraged to be themselves, whether they want to get sentimental or goofy! Whether you want to post adorable photos and videos of your pet for others to admire or discuss training tips, dog lovers everywhere should check out I Remember Love today!