Nailing the Jazzy high notes
Ning Network Spotlight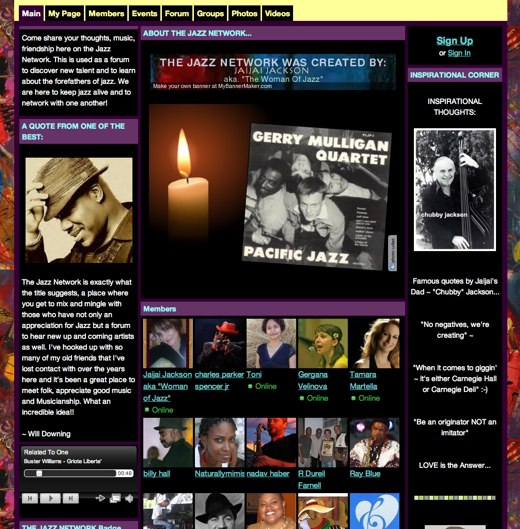 From Count Basie to Coltrane, the purveyors of America's classic genre have come a long way and been through many changes over the years. Now, Jazz musicians and their fans are taking that spirit and energy into the social-networking realm with The Jazz Network.
The goals of the network are clear. It serves as a "forum to discover new talent and to learn about the forefathers of jazz. We are here to keep jazz alive and to network with one another!"
Jazz is no niche genre either, as the network has already amassed more than 2,500 members. The members have done their part, uploading nearly hundreds of videos and thousands of photos. On the network, you watch an interview with transgenerational trumpter Miles Davis or the classic BB King. Don't forget to check out the photo gallery, where you can easily spot jazz queens like Ella Fitzgerald — or just network members at their local shows.
The music of jazz, though, is much better heard in person. As such, members have taken to using the network's events feature to attract fans to their shows and help members find shows in their area. Going to be in New York this weekend? Don't miss the Urb Alt Festival, which is going to be held in the classic Apollo.
Take off your headphones and head over to The Jazz Network! And until then, enjoy a sample of what you're missing below.