Networking after the flames die down
Ning Network Spotlight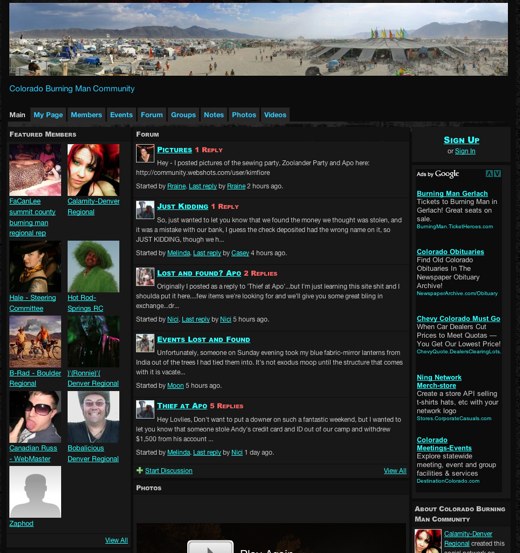 Explaining Burning Man "to someone who has never been to the event is a bit like trying to explain what a particular color looks like to someone who is blind."
An attempt to explain would reveal that Burning Man is an event where thousands of people show up, once a year, in the desert, to share art, expression, life and ruminations how to change the world. Colorado Burning Man is a online gathering where Coloradans with a Burning Man mentality can network when they aren't at the main event.
The network focuses, in some part, on the events that happen outside of Burning Man in Colorado. Mini Burning Manesque events pop up a lot in Denver. Burning Man folk, known in inside circles as Burners, share a passion for trying to make a difference. This is evidenced in the forum, where many topics are about helping out those in need, like this group of Burners going out to help the victims of a recent tornado.
Burners are known not only for the philanthropic endeavors, but also for their flare. Browsing through the Colorado Burning Man pictures, you can see this flare burning up the screen! People in crazy costumes from all walks of life show off their stuff. They have style in their costumes and their artwork, as evidenced in this section.
Whether you are a long-time Burner from Colarado, or are interested in their culture you have to take a look at this site! Here are some picture to get you in the Burning Man mood!