Paintball or nothing
Ning Network Spotlight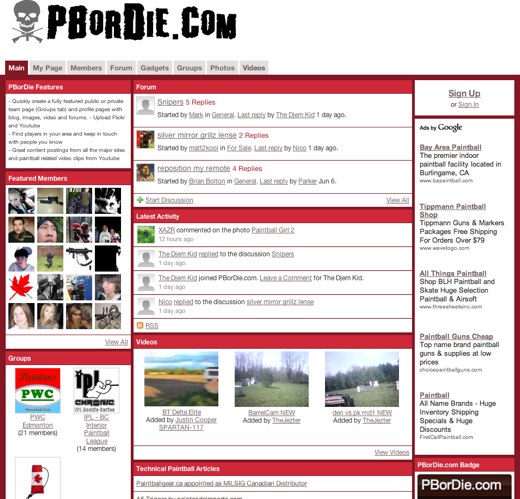 If paintball is more than a passion for you — PB or Die should be your new home.
The network is completely devoted to the sport of paintball, in case you couldn't figure that out from the network's name. The network has adapted the traditional groups function into a way for teams to represent themselves. You'll find teams (mostly Canadian) from across the continent — from Canadian Paintballers to Western Newfoundland.
The forum has also turned into an active place for members to discuss the best paintball tactics (ambush or panther?) or even put old equipment up for sale — need a PMI Piranha R6? Network administrators have even used the new "featured discussion" ability to prominently ask members what categories they'd like to see on the network.
Members have put the photos feature to use as well. Jeffrey Meloche uses it to demonstrate different paintballing positions, such as the crouch shot, prone shot and aiming. Of course, the gear (very important in a game that involves shooting) is often on display on the photos — and paintballing gear is getting more high tech by the day!
Put on your mask and slyly sneak your way around to PB or Die!