Powering the world's jobs at JobBoarders
Ning Network Spotlight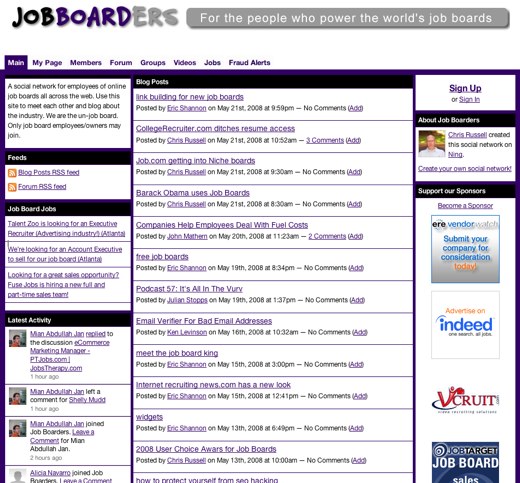 The job-posting sites you scour to find, start or change careers don't just run themselves, there are real people behind them. And when they're not busy helping others find jobs, those people gather online at Job Boarders.
The network is all about exchanging information. A heavy emphasis is placed on members' blog posts, which are placed front and center on the network's main page. Members, for their part, have taken advantage of this, posting blogs on a variety of subjects. Fellow Penn graduate Austin Lavin — CEO of MyFIrstPaycheck.com — wrote about how he was able to land an interview on Fox News about his Job Board. Network Creator Chris Russell recently blogged about changes in CollegeRecruiter.com's security and resume-storing policies.
Lavin was especially upbeat about the opportunities that Job Boarders has opened his company up to.
"I've learned about new technologies from people who use them, read stories about selling and been able to easily keep abreast of the industry," he said. "At first I was wary of joining another social network, but I've learned that the more I put into it, the more I get and I try to utilize Job Boarders as often as possible. "
Aside from blogs, the forum is particularly active as well. Members, naturally interested in job market trends, have discussed how the 'looming recession' will impact new and recent college graduates and the habits of users of their various job board Web sites.
Of course, communication on social networks — unlike the normal Web — isn't a one-way street. Discussions often generate replies, involving members is debate. And even blog posts appear to receive a lot of feedback, with members often commenting on each other's posts.
Russell, the Network Creator, has gone a step above with the forum, though, and turned a section of it into a classifieds section for his network's job focus. In the Job Board Jobs forum category (which he has also made into a tab), members can find jobs at online job boards without even leaving the network!
So if you're looking for a job, or just want to find insight into how job board sites work, become a Boarder.