Returning to the Panther Trail
Ning Network Spotlight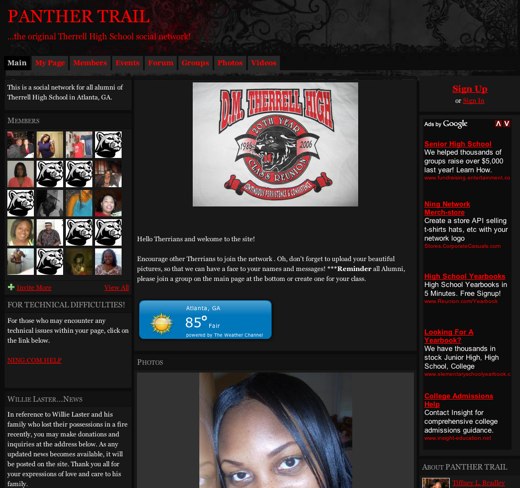 The Panther Trail brings together alumni of Therrell High School in Atlanta, Ga. With more than 400 members, it's fast becoming home base for all things Panther!
Right on the main page, Network Creator Tiffney Bradley encourages members to do two important things: Invite their fellow Therrians and upload photos. It's a great way to engage people immediately — and people have responded, uploading hundreds of images. In a slideshow on the main page, you just might spot your former chemistry lab partner all grown up and with a family of her own!
There are also many alumni events posted on the network, allowing people to re-connect in person as well. Members can learn about all the upcoming plans for the class of 1988's 20-year reunion, from the benefit friday night fish fry to the main banquet event.
In the forum, members can relive their high school days and, if courageous enough, chime in on burning questions like "Who did you have the biggest crush on in high school?"
The Panther Trail is a great example of an alumni network in action!