Revisiting Veghaven
Ning Network Spotlight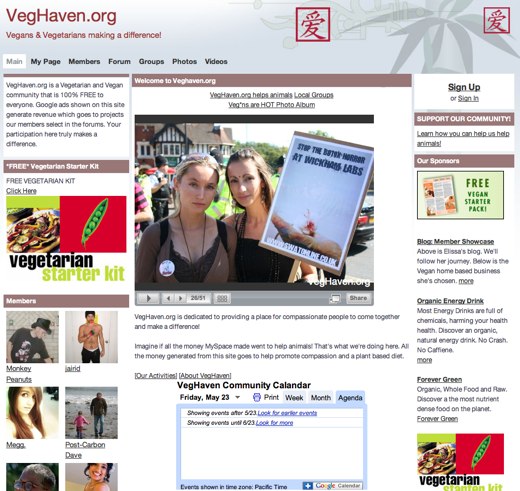 A short while ago we blogged about a great network called VegHaven.  Well since our blog they've been going leaps and bounds to make their network the perfect place to gather and spread their cause.  Because of this, we decided to ask the network creator Chris Tinney, otherwise known as the Ambassador of Abundance, a few questions about his network.
Why did you decide to create your social network on Ning?
I wanted to bring like minded people together to support each other in creating more of what they want.
How useful is having a network for vegetarianism/veganism?
Finding others to share with is important, especially when new to a plant based diet. Our community recieves thank you emails every day from people happy they found us.
What is the biggest challenge you've had on the network?
The biggest challenge we've faced is keeping things simple. We donate 100% of the revenue VegHaven generates, so creating an easy way to do that took some time. We are now working with The Farm Sanctuary.
What are your plans for the future of Veghaven.org?
Our plans for the future are to increase the amount of shelters and animals we help, by increasing our membership and our advertising revenue.
Any cool projects coming up?
Yes. I'm touring the country, telling people about Green Living and VegHaven. I'll be posting updates every day via YouTube. Our first event is July 4th at The Farm Sanctuary in Orland, California. You can find more info at the top of our home page.
Well thank you Chris!  Check this awesome network out and be part of the solution at VegHaven!