No 'Little Voice' for Sara Bareilles fans
Ning Network Spotlight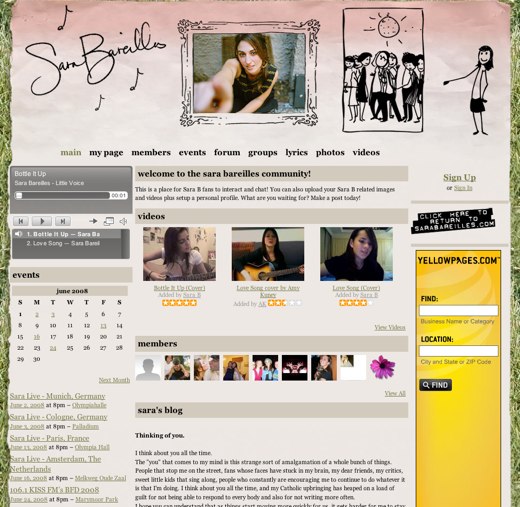 With major hits like "Love Song" and "Bottle It Up," Sara Bareilles is quickly becoming a household name. But why limit that talk to house? To allow all of her fans to interact directly with one another, Sara and her record label — Song BMG/Epic Records —  set up Sara B Community. 
A UCLA alum, Bareilles has quickly turned the network into the best place on the Web for her fans to meet each, share info on "Little Voice", her latest album, or gush over the new vinyl release.
The events section has been turned into a great way to see Sara's upcoming tour schedule — which ranges from Munich to Scranton, Pa. Members have started uploading photos of Sara, both those found online and ones they've snapped themselves when seeing Sara live in concert. 
The videos section has taken off as well. There you can spot official videos, like Sara crooning on the David Letterman Show and a behind-the-scenes look at the filming of "Bottle It Up." However, Sara and her record label aren't the only ones uploading videos. As in a great display of the advantages of social networking for artists, fans have joined in the fun. They've uploaded videos of their own Sara Bareilles covers, such as Kerby Moore singing "Love Song" and — don't think it's girls only — Sam G singing "Gravity."
Sara has even taken advantage of the Pages feature to publish all the lyrics for her most recent album, Little Voice. If you were too busy humming or dancing along to "Many the Miles" to pay attention to the lyrics, Sara's got you covered in the Lyrics section.
So check out her appearance on Letterman, and then join Sara B Community: