Seattle Adobe users unite
Ning Network Spotlight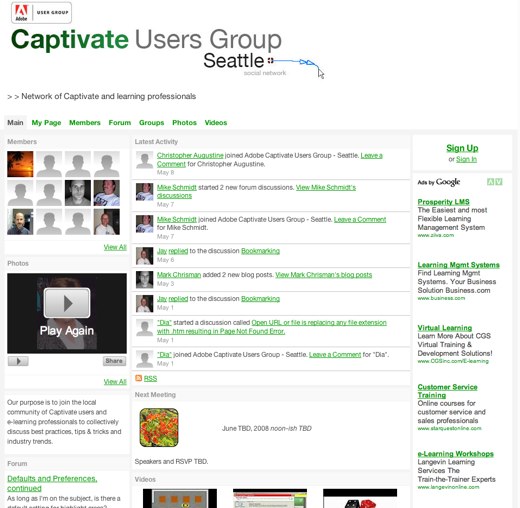 Captivated by eLearning and Adobe Captivate, Mark Chrisman created Captivate Users Group Seattle.  This professional eLearning network collects online educators in Seattle and surrounding metropolitan areas to give them a forum for making learning online easier and better.  Members are able to connect with other professionals exploring the field of video tutorials on the web.
Where this network shines is in the sagely composed forum tab. Here users share a plethora of information about Captivate.  Educators developing a video can ask technical questions and find other members with hands on experience that have the answer. Members also reach out to other members for freelance development work.  What would learning be without lectures? Members attend lectures and conferences in the area to learn more about their product and how to implement it. Speakers can find an audience base here and audiences can find interesting talks about how to advance in the burgeoning field of eLearning.
If you would like learn how to "rapidly create engaging learning experiences," then get captivated by Captivate and check out Captivate Users Group Seattle!