Sharing, caring with Single Parents
Ning Network Spotlight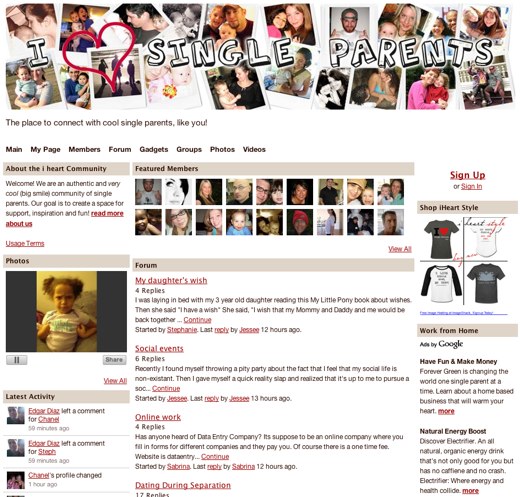 Created by two single mothers, Morgan and Clare, I Heart Single Parents is just what it sounds — a place for single parents to gather in a positive atmosphere for support, inspiration and fun! After reading their "About" page, it's clear that Morgan and Clare are more than fulfilled and embracing their lifestyle.
I Heart Single Parents is empowering members by providing them with valuable resources and encouraging them to connect through groups and forums. The forums are extremely lively with more than 142 discussions taking place!
But it doesn't stop here for I Heart Single Parents. The two ambitious Network Creators have great things in store for members! Future plans include incorporating additional features, such as a marketplace, expert advice, and resources to make the lives of single parents even more fulfilling.
I Heart Single Parents is a great resource for single mother and fathers! If you're not quite convinced yet, read glowing testimonials from real members. Single parents everywhere should join I Heart Single Parents and start connecting, learning, sharing, and having fun!