Small-business social networking at Sta.rtup.biz
Ning Network Spotlight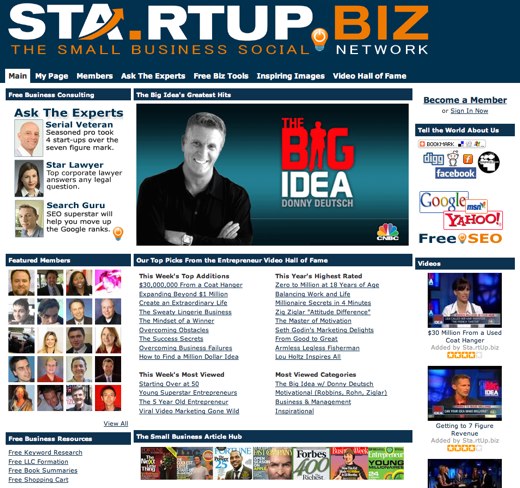 Sta.rtup.biz wants to help small business people start, and start out right.
Sta.rtup.biz is a small business social network created by a seasoned pro who has started four companies that have gone beyond the $1 million mark in yearly revenue. Members benefit from free advice on the expert forums from:
The seasoned pro, also known as the Serial Veteran of start-ups.
TheMaster/Search Guru, a Search Engine Optimization superstar who will help you move up the Google ranks.
StarLawyer, a corporate lawyer who can answer your legal questions.
As if this isn't enough to motivate you to join Sta.rtup.biz, there's a whole page of free business tools that have been reviewed by other entrepreneurs like yourself! But even the pros recognize that you can't be all business all the time! Take some time off and browse through the inspirational photos tab or the videos hall of fame.
Whether you're a novice or professional, you're sure to learn something new at Sta.rtup.biz!
Let's start create business website with Ning: https://www.ning.com/create-business-website/