Take care of OurWorld
Ning Network Spotlight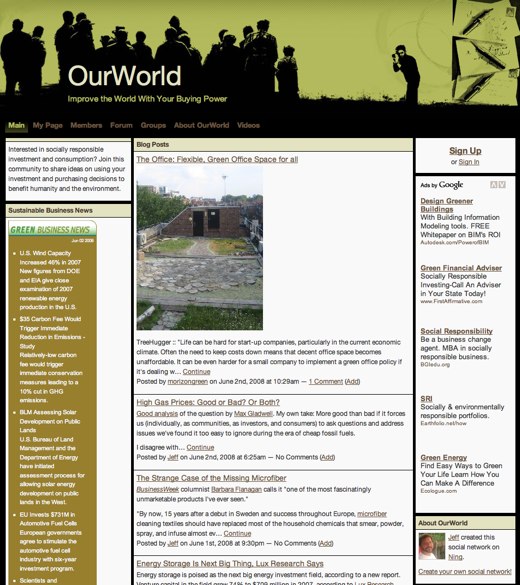 OurWorld is a social network for those interested in socially responsible consumption and investment. It is the brainchild of Jeff and Zig: two guys from New Jersey looking to create a socially responsible business of their own. But what spurred them to create OurWorld?
"A lot of people were thinking and talking and writing about pieces of the social responsibility puzzle, but no one seemed to be effectively bringing all of the issues together," they said. "There were scattered communities of interest, but no one place where people from all across the social responsibility spectrum were getting together to compare notes and share ideas for practical use of our buying power to promote changes in the way business works."
Learn about investing in solar stocks and stay in the know by reading Green Business News on the main page. If you need convincing that it pays to be ethical, check out the Jeff, the Network Creator's, blog post about Ethisphere's 2008 ranking of the "World's Most Ethical Companies." After all, capitalism has the potential to be an extremely effective engine for social change. When you're all settled in to OurWorld, set up your OurWorld travel blog at The Concourse to let your friends know where you are and what you're up to!
What else can you do on OurWorld?  Learn how to make your business socially responsible, promote your socially responsible business among a like-minded audience or just influence the wider world!
Join OurWorld to share ideas on using your investment and purchasing decisions to benefit humanity and the environment. Start improving the world with your buying power now!