This place is for show business
Ning Network Spotlight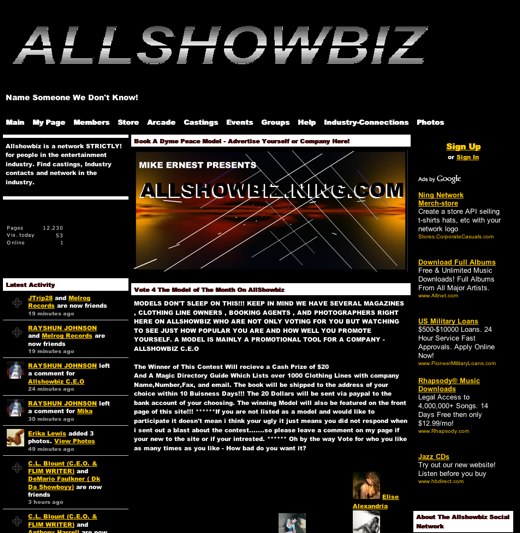 Lights, camera, action… This is All Showbiz! A network for members in every facet of the showbiz industry. Whether you be an actor, a model or a casting agent, networking is what the business is all about. And what better place to do it than this stylish active network!
The network has everything industry professionals could want. A store section provides everything to keep you up to date, from clothing lines to record industry contacts. It provides key contacts to keep you connected to the best professionals out there. The industry connections tab lets you browse current djs, popular parties and even has a good guide on how to create the perfect party by having all the elements of a good movie "a good plot, believable characters, a little action, a little suspense, a little sex, and a happy ending!"
And of course what showbiz networking site wouldn't be complete without a solid casting page. This page is where actors can find leads on the elusive audition and hopefully catch a break! And if you get tired of networking, this is also a great place to play, just head over to the arcade page to play some sweet online games.
If you are trying to break into the industry there's only one place to go. All Showbiz is it!