Up-close with the creators of Single Parents
Ning Network Spotlight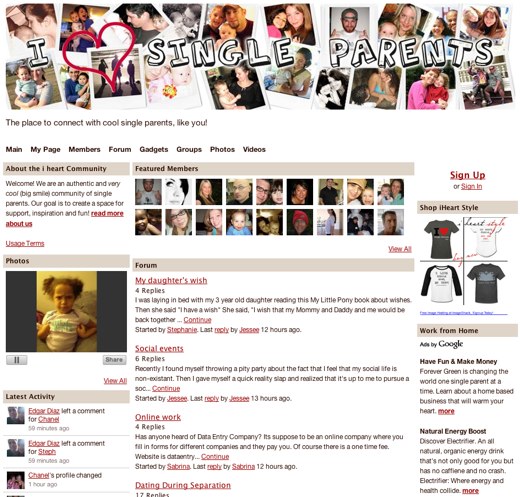 Last week, we
featured
the network I Heart Single Parents. But Network Creators Morgan Silar and Clare Bean have done such a superb job with the network we wanted to get their thoughts as well.
Tell us a little bit about yourself and your network.


Clare Bean and I (Morgan Siler) are two single moms from Portland, Ore. who came together with a common vision to create an online network that uplifted and embraced life as a single parent, and connected all the hip, single moms and single dads of the world.
When people ask us why we created iHeartSingleParents.com, I often say, "the zeitgeist called for it!" Everyone knows the huge social networking sites and the dating sites, but none of these offered the type of connections we were really looking for. We wanted an authentic network of people who shared the single-parent experience. We wanted to meet other single moms and single dads who were cool, who we resonated with, could learn from, be inspired by or just share a laugh with.
What we craved was just a real network of people who were striving for the same things we were: Finding balance and happiness in being a parent, and being single. (Okay, and enjoying a ego-boosting flirt every now and then too (smile).
[Editor's note: For more, follow the jump!]
What was the network creation experience like?
It's been wonderful. I have a background in photography and Clare has a background in graphic design. Neither of us have expert experience in Web development, but we didn't need to. Ning took away the intimidation factor, giving us all the tools and help we needed to get on our way. Right now we are learning CSS to really take advantage of Ning's 'infinitely customizable' features.
Why did you choose Ning?
We originally thought about doing a proprietary social network but didn't have the start-up funds to do that, and, really, after discovering all that Ning can do, there is no need! Ning truly is the best platform and has allowed us to jump right in and grow the network we envisioned— a place that valued authenticity, friendships and an upbeat attitude toward life.
What do you see as the future for iheartsingleparents?
We've never been afraid to dream big, and from the beginning our vision and intention has been to create the go-to place on the Web for single parents. With the single-parent population in the U.S. alone being around 13 million, we know there are millions of potential members worldwide who we can serve. We aim for a network of a million strong and will work hard to maintain the authentic and close-knit network feel as we grow. Powered by Ning, I trust our social network will be both scalable and dynamic.
What do members get out of the network?
We've received so many awesome comments from our members, with many of them repeating how grateful they are that this network exists. It's helped all of us feel less alone and isolated, and all-around more optimistic and even giddy about single parent life. To be able to see that there are tons of other single moms and single dads out there, who are cool, who get it and who genuinely want to support and share with each other is huge.
So often single parents don't get a chance to get out and meet other single parents, so the experience can be isolating and depressing. Single parents crave community, and an online venue is perfect for our lifestyle.
What I've found through this journey of creating a social network has been incredibly motivational: Just giving people a heartfelt place to connect in a niche social network, the human spirit is allowed to really shine, people who would not have ever known each other, rally behind one another to support and inspire. Friendships are made and at the end of the day, the world doesn't seem so scary. In fact, it seems pretty awesome.