Weight-loss bloggers come together
Ning Network Spotlight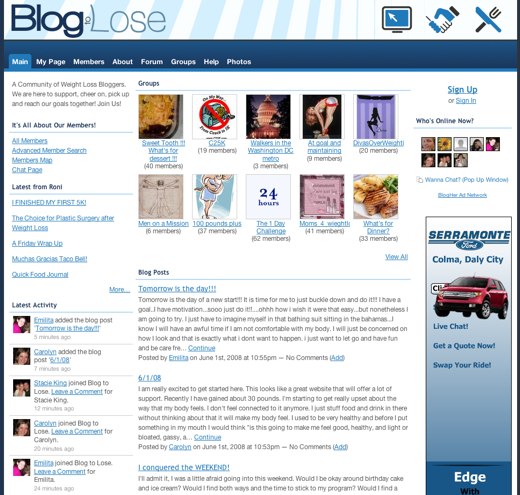 If the hunger bug is biting you and you are trying to lose weight, don't hit the fridge, head to the computer and Blog to Lose.
When hunger pangs strike, dieters need distractions. A network of like-minded individuals blogging about their journey is a perfect solution. The road to weight loss may seem long, but compatriots along the way give members the ability to power through.
As the title would indicate, the most vibrant part of this network is the personal blogs of the members. There are literally thousands of blogs here about everything from food to exercise. The personal tales of success — and sometime failure — give members the support network they need to take on their weight-loss goals. The home page is also a great resources. There have been lots of text boxes added on the left side of the page with things like good recipes, and an advanced member search function.
The Network Creator, Roni, is incredibly dedicated to making this site everything it can be to help. After accomplishing her weight-loss goals through a series of healthy food recipes, she chose to share those recipes in blog form so that others could follow in her footsteps.
This network started as an homage to Roni's journey and is now an infinite well of support for hundreds of members trying to do the same thing. If you are looking to lose weight you should definitely sign up for Blog to Lose today, and finally find the support you need!