A network for finding MissedKisses
Ning Network Spotlight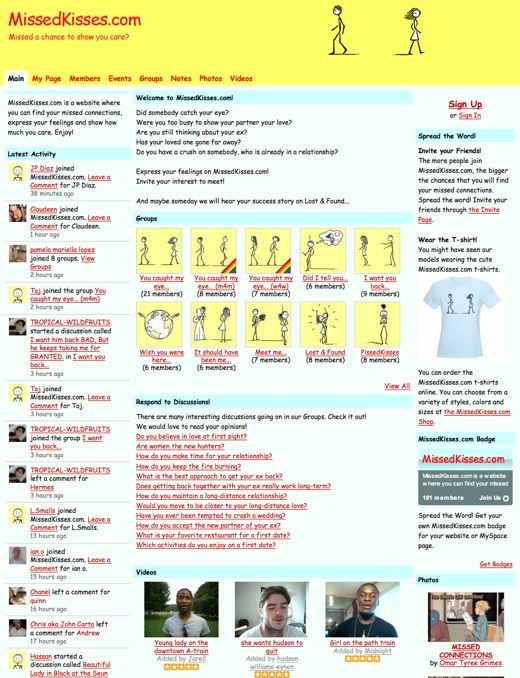 I was in the khaki pants. You were in the pink top. We sitting across from each other on the train. I made a joke to my friend, you laughed, we glanced at each other and smiled. Then… you got off the train.
Missed connections. We all have them, but only an ambitious few of us actually do anything about it. For those committed to reclaiming lost opportunities, there's MissedKisses.com.
The network's design is downright stylish. Great stick-figure illustrations capture the spirit of each group, and nothing quite says "I have a crush on you" like Comic Sans font. So it's no wonder that MissedKisses.com sells all sorts of gear featuring its banner animation at CafePress.
Members use the nicely-categorized groups feature to post their messages to lost lovers. More daring Romeos and Juliets opt to lament their missed connections with video posts. And under the events tab, you can learn about great places to meet that special someone like Movie Nights in Bryant Park or the P.S. 1 Warm Up.
Although members generally hail from the New York City area, anyone can benefit from the philosophical musings found in group discussions. Do you believe in love at first sight? Now's your chance to throw in your 2 cents!
The next time the love of your life slips through your fingers, just hop on MissedKisses.com. What do you have to lose?