All Things Horsey
Ning Network Spotlight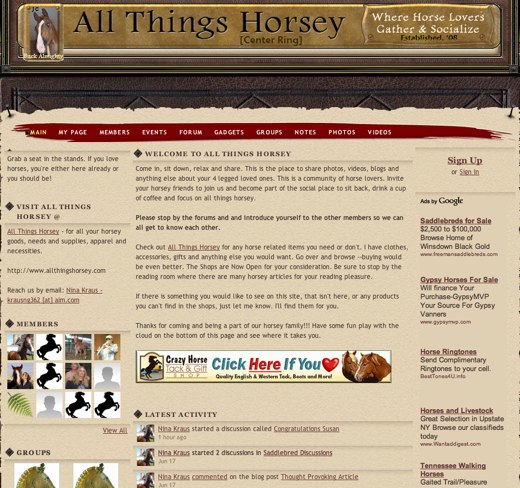 Like your stereotypical little girl, I loved all things pink and sparkly, dreamed of being a princess, and most of all, I wanted a horse more than anything. Unfortunately, that wish never came true (although I did have lots of pink, sparkly things). For all those fortunate enough to have loved a horse, there's All Things Horsey [Center Ring]!


All Things Horsey is a network where horse lovers gather and socialize. For all your horsey needs, check out the store. Photos are a great way for members to proudly show off their beautiful horses.
Although the network is small, members have posted some great content. Nina, an active member, blogs often about a variety of topics including horse show judging, horse fire tragedy, and her own teenager who loves horses too!
Get in the virtual saddle and join the horsey family!