All things Theologica
Ning Network Spotlight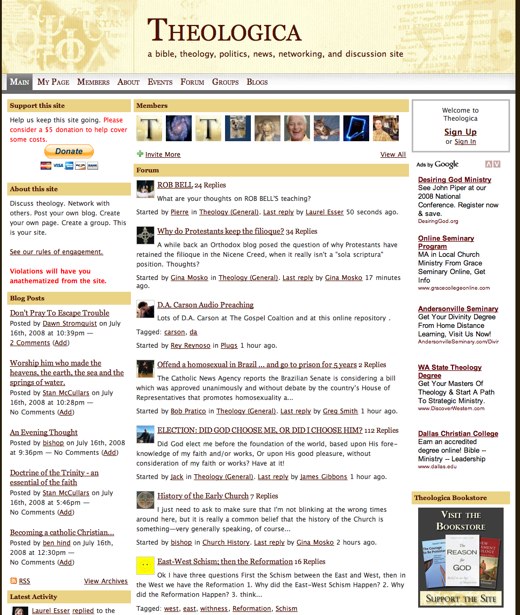 Religion is one of the oldest establishments of human kind. The history of religion and study of what it is now can all be wrapped up in Theology. However, theology can be controversial at times — and that's where Theologica comes in. This network is a huge, content-rich home to an open, accepting forum for members to share their views and discuss this intriguing field of study.
This resource is open and accepting, but to avoid being "anathematized" remember to follow the rules of engagement. And then dive right in!  The main page is a perfect place to find many articles from various great blogs. Check out the Internet Monk, thoughts on faith with Michael Spencer.  You can't miss the blog of Team Pyro. For more introduction to this awesome school of study, check out the Theologica bookstore.
The MP3s from the main page are also a very personally connected way to understand some complex topics. What place does God have in morality? Or where can we find hope in the complex time we live in?
These main page blogs, the added blogs tab, and bookstore are a great jumping point to sink your teeth into Theologica, but when you are ready to really engage, check out the forum. The discussions are intense and controversial.  But that's the beauty of this network! People can talk about some serious stuff, and still get along.
If you like the logic of religion and its history you need to check out this robust network. There are many more ways to experience the full power of religious thought here. Explore Theologica, learn, participate.  This network is what it is because of its members powerful contributions!