Awaiting 'L.A.X.'
People Profiles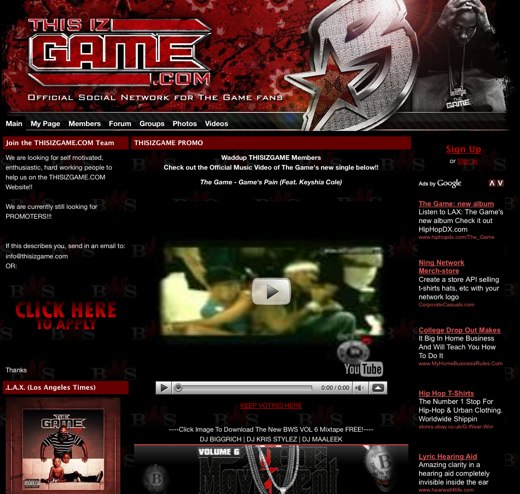 We recently featured west coast rap icon 'The Game' and his social network ThisizGame on our blog as a precursor to his highly anticipated third album L.A.X. With a rich layout, exclusive content, and a tremendously active Black Wall Street team around the globe, ThisizGame has been one of the fastest growing networks on Ning.
Even though The Game is a fixture in the West Coast hip-hop scene, garnering the respect of hip-hop legends Dr. Dre, Ice Cube and Snoop Dogg, his following and music resonates with fans all over the globe. We chatted with Network Creator Greg O, who is in charge of the Black Wall Street Digital Media team in Europe and created ThisizGame. He shares his thoughts below:
We're seeing the emergence of social networks for artists. What made your team decide to launch a social network for Game?
We have been playing with this idea for quite a long time. Together with my partner Nadz, we were looking for a channel where we could push all our promo messages directly to the fans, and give them the opportunity to actively interact about it. Than suddenly I noticed all the possibilities of Ning.com. Since we were planning to launch a new The Game Web site for his upcoming album LAX, we decided to incorporate a fully interactive social network for all The Game and hip-hop fans.
What can fans look forward to seeing on this network?
We got a lot of things planned. Currently we are still building our staff team, but very soon we will have contributions from official BWS artists and DJs. This includes live chats, official LAX countdown podcasts by BWS DJ Maaleek, exclusive BWS media for all our members, DJ chart picks of the week by Official BWS DJs, ThisIZGame female contests, Unsigned Hype columns for all Upcoming artists and some more crazy things which I won't reveal yet.
After listening to Game's latest single 'Game's Pain', I want to hear more singles off the album! Where can fans get more music in the upcoming weeks as we patiently await L.A.X. dropping August 26?
Thisizgame.ning.com! Since earlier this week, we have The Game's street single off LAX available on our network for all our users. The track which features Travis Barker is called "Dope Boyz" and was produced by "1500 or Nothing'". As soon as new BWS music hits the Internet, we have it published. For example, we leaked a brand new Juice song (Shoutout to Primo!) last week, and soon we will have Game's new (cartoon) music video for "Superman" available exclusively for all members. So keep checking out the network each day!
Thisizgame has an incredibly active blog for not only Game-related news, but hip-hop, entertainment, and lifestyle news. What motivated your team to think of this?
Well the purpose of ThisizGame is to be more than just a community for The Game or BWS fans. Game gets love from everywhere — East, West, the South or even Down Under and Europe. So we decided to flip this network into a huge, interactive, global urban community with the latest on hip-hop, sports, fashion, tech gadgets and more. In the future we even want to take it a step further and might have some columns on politics/religion.
What's next for Black Wall Street and how can we join your guys' street team?
LAX is what's up next. The most anticipated album of the year will be on the shelves August 26. Make sure to save some money and support real music! Right before that look out for Game's new mixtape "You Know What It Is Vol. 5" with DJ Haze coming mid July!
If you want to join our street team, send in an email with your details to info@thisizgame.com!!!
With rumors buzzing of this being Game's final studio album, is there anything left you'd like to tell us?
Believe all the hype, this album will be another classic LP from The Game….
Last but not least I would like to thank some people. First of all I would like to give a shoutout to all our promoters. I can't mention all you guys, but your work is being appreciated from Day 1. Next up is my BWS New Media Director partner — Nadz, who helped me to achieve this huge project. Maaleek — the best DJ in the world. MDK — The hottest unsigned artist in the streets of LA, my European partner Desh. Tasiri — the Black WallStreet president, Taydoe / TaydoeProductions (check out Taydoe.com) and of course everyone else at BWS. Finally a huge thanks to Oyd for lacing us up with another sick layout!
To the fans, keep visiting ThisizGame.com! Believe me, you don't want to miss all the exclusives we are about to bring in the near future. LAX coming soon!