Become a 505 Space cadet
Ning Network Spotlight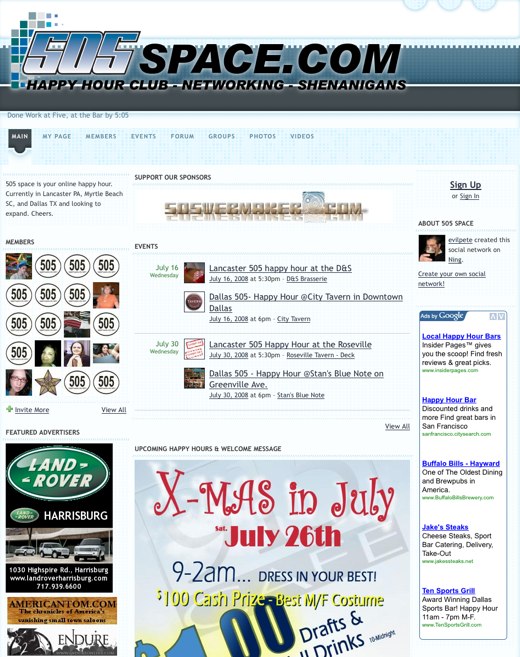 You get off work at 5:00, so where are you at 5:05? At happy hour, of course. That's the philosophy behind 505 Space, an online hangout that's all about finding great bars, networking and "shenanigans." That's right, shenanigans.
505 Space began in central Pennsylvania, a region that needs as many happy hours as it can fit in a day. (Just kidding — I love you, Harrisburg!) Accordingly, members show their PA pride all over the network, especially in the groups page. There you'll find that two of the most popular groups are Pittsburgh Steelers Fans and Philadelphia Eagles Fans. Right now Steelers fans outnumber Eagles fans, which, in my humble opinion, is a travesty.
505 Space has since expanded to other urban hubs, including Dallas and Myrtle Beach. Upcoming events include a "Dallas becomes Chicago" pub crawl, an "infinity-themed" party on 8/8/8, and tons of regular ole' happy hours at featured bars. And if you want a healthy dose of "shenanigans," look no further than the photos tab.
When you need to unwind after a hard day at the office, let 505 Space be your guide!