Bridging research and practice for HR leaders
Ning Network Spotlight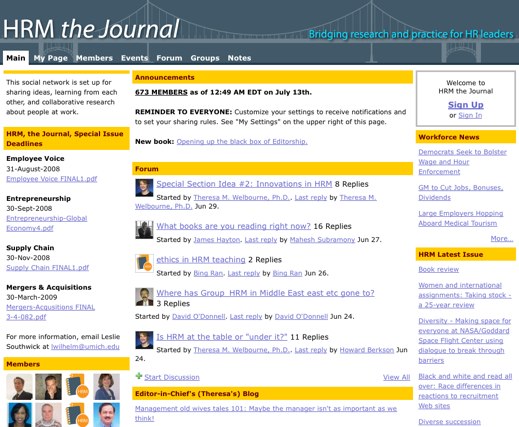 Human resource management is an academic, practiced study of enabling employees to be as effective as possible. The theory behind this strive for efficiency is one of heated debate and constant change. That's where HRM the Journal comes in, as a mosh pit of ideas for and from this industries professionals.
HRM the Journal's main page is a testament to the amount of information they have on this developed network. They've used well placed text boxes to give the members, or anyone willing to take a look at news pertinent to the HR world in their "Worforce News" box. They also have links to the Editor-in-Chief's and the Executive Editor's blogs to give you a look at the brains behind the Journal.
Diving into the network, you can see how much great user generated content it actually has. The groups page is rich with networks within this network, some for teaching HRM and others for international HRM. The forum section also shows some great discussions about HRM, such as what is the future of HRM during an economic downturn?
This brings up some great questions. During an economic downturn how is employee support affected? What takes a toll in the HR department? Whatever the answers, and wherever HRM is going, it has a home at HRM the Journal.