Bringing together the Dominican Diaspora
Ning Network Spotlight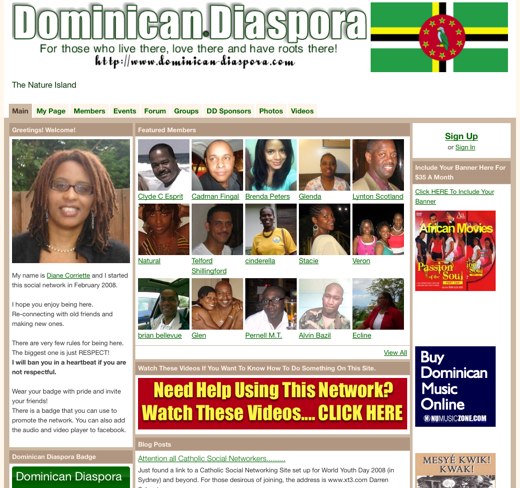 Dominica is an island nation with a population 70,000 is located in the eastern Caribbean — not to be confused with the Dominican Republic, which is in the northern part of the Caribbean. Dominica is being referred to as the "Nature Island," where two-thirds of the island are home to the tropical rain forests and thousands of plant species.
Dominican Diaspora is a social network, created by Diane Corriette is all about reuniting all Dominicans around the world. When you create an awesome social network like Dominican Diaspora, it's only natural you'll draw large memberships. This social network's latest activity is always buzzing with new members and friend connections. To help them make the most of their stay, there are video tutorials on how to use this social network effectively.
One of the main components that keeps this social network going is the sponsorship that Dominican Diaspora has received. DD Sponsors is where you'll find the network's sponsors who continuously show their support by paying for advertising. Another vital component of this social network is the members themselves. You'll always find lively discussions on the forum, ranging from serious to fun topics.
Members are also very active in groups. One very popular group is Cooking Dominican Style, with members sharing and exchanging delicious Dominican cuisine recipes. Check out the social network's July events, filled with fun activities such as scuba diving excursions and family picnics. Members have shared over 10000 photos of friends, families and beautiful landscapes of Dominica. You can't help but after looking through these photos of smiling friendly faces and lush, green tropical rain forests, want to experience this beautiful island.
Join Dominican Diaspora today and book a flight!