Catch M Fever at MCoupe.com
Ning Network Spotlight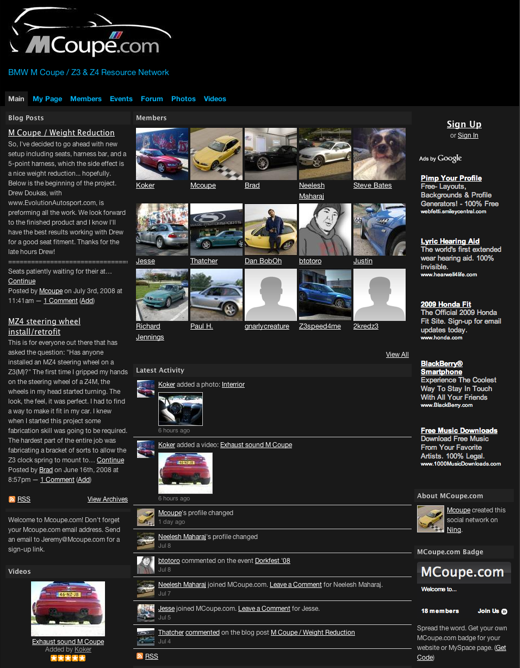 The M Coupe, as well as the Z3 and Z4 Coupe, are rare shooting-brake sports cars produced by BMW from 1998-2002. MCoupe.com is the internet home for the active group of enthusiasts that own and love these special autos.
The M Coupe is perhaps the best example of the shooting-brake style of performance vehicles. In modern parlance this describes a small, two-door hatchback with a capable engine which sends it's power to the rear wheels. This allows the wheels to be pushed to the far corners, maximizing the handling and creating a recipe for extreme performance. In the case of the M Coupe this formula produces an extremely fun-to-drive car with a face and body only an enthusiast could love.
That's where the members of MCoupe.com come in. Besides the members just showing off their various rides, you can also find discussions on various performance modifications in the discussion forum. The video section has a sampling of M Coupe-related clips. In the events section, you can fill your calendar with BMW meet-ups and pulse-pounding track days. In fact the following video is taken from behind the wheel of an M Coupe at a track day event:
So if, like me, you have a soft-spot for the polarizing looks and undeniable abilities of the M Coupe, race on over to MCoupe.com to catch some of the action.