Create the ultimate FIFA experience with mySweetpatch.tv
Ning Network Spotlight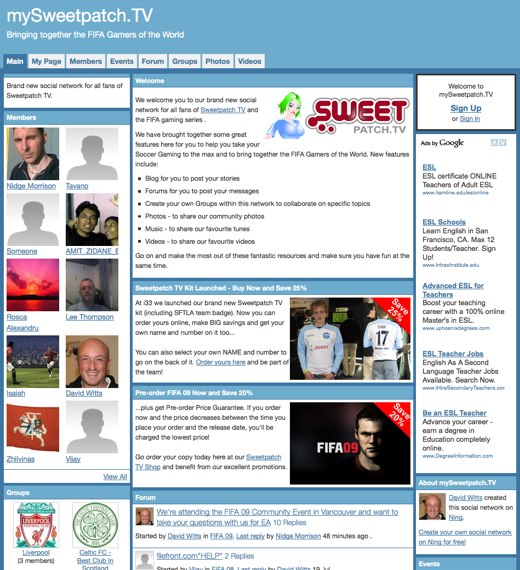 The FIFA franchise from EA Sports has turned millions of Americans into genuine soccer fanatics. (It's also satisfied millions more around the world who already knew soccer was cool.) mySweetpatch.tv is the social network where members talk about patches, online play, cool downloads, and anything else that brings out the best in the FIFA games.
mySweetpatch.tv is the social network for users of Sweetpatch TV, a Web site that helps people customize their gaming experience. Here, members use the forum to talk about any issues they're having with downloaded software, as well as just celebrate new installments to the series, like FIFA 09.
Of course, no gaming network would be complete without a videos section for members to upload their performances. You can check out this full match between Tottenham Hotspur and Aston Villa here — it's the next best thing to getting tickets to White Hart Lane.
More than 200 virtual footballers have joined the network. So even if you're not a Liverpool supporter, "you'll never walk alone" at mySweetpatch.tv!