David Archuleta is Our Hero
Ning Network Spotlight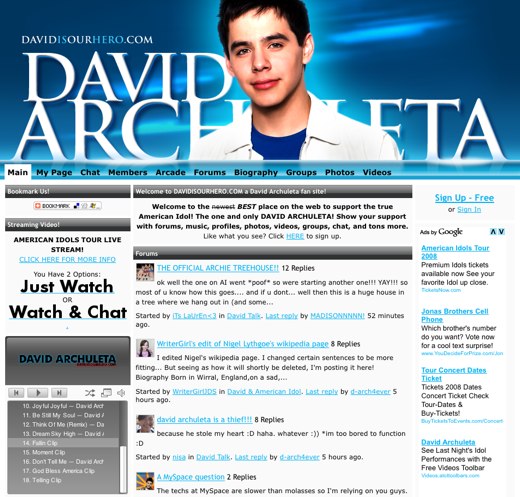 American Idol, which recently completed its seventh season, is consistenly one of the most popular shows on television, garnerning millions of glued-to-the-television fans throughout the country, and the world. In the show's most recent season, two Davids — Archuleta and Cook — faced off for the hearts and votes of American Idol fans.
While David Archuleta lost out to David Cook in the finale, he hasn't disappeared from the national stage — or from the adoring eyes on his fans. Networks on Ning are no exception; we recently blogged about the David Archuleta Fan Site. Well, they're no longer the only game in town: Welcome DavidIsOurHero the list.
The network features a gorgeous header, with a large headshot of David greeting all visitors. Those unfamiliar with David's music can sample more than 15 tracks by listening to the music player on the main page of the network. Of course, they can also use the songs as background music while chatting on the network's added — and incredibly active — chat widget.
To acquaint visitors with David's story, the Network Creator has taken advtantage of the Pages feature to put together a full biography on David's life. Any new members who choose not to upload a photo will get a custom-designed, David-theme avatar as their profile photo.
Be sure to check out the forum as well, where you'll find 180 different discussions have been started. The most popular discussion is "Archie Awards," where members have taken to giving each other awards. Another forum highlight is "Random David Facts" — did you know that the now-famous crooner once had vocal paralysis?
If you did (or if you wish you knew), head over to DavidIsOurHero and share your Archuleta love!