Defining the Modern Journalist
Ning Network Spotlight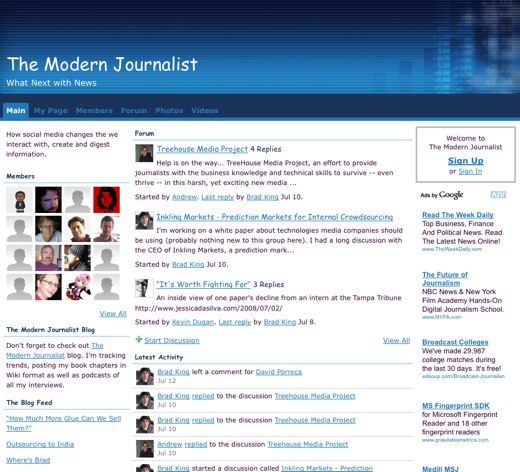 Built around the question of "how social media changes the way we interact with, create and digest information," The Modern Journalist examines the ever-evolving roles of news seekers and news providers. Network Creator Brad King keeps his members up to date with an RSS feed that links to his blog. His posts deal with all the issues that face the modern journalist: globalization, the death of print, web marketing and plenty more.
At the forum, members discuss the questions that are crucial to journalists as they try to reclaim a niche in the digital age. One member posts a link to the Treehouse Media Project, a resource for newspaper writers that, um, explicitly expresses its frustration with Google. And to test where we really go for news, Brad asks members whether they'd rather give up their favorite newspaper or Google. The result is an interesting meditation on how reliability and convenience influence our decisions as consumers of news.
Of course, the network isn't all about fretting over petty things like your career and the future of your industry. No, as photos like this one from a South by Southwest party suggest, the modern journalist can party with the best of them!
From traditional newspaper writers to microbloggers, The Modern Journalist is a valuable resource for members of this transforming industry.