Doodle love!
Ning Network Spotlight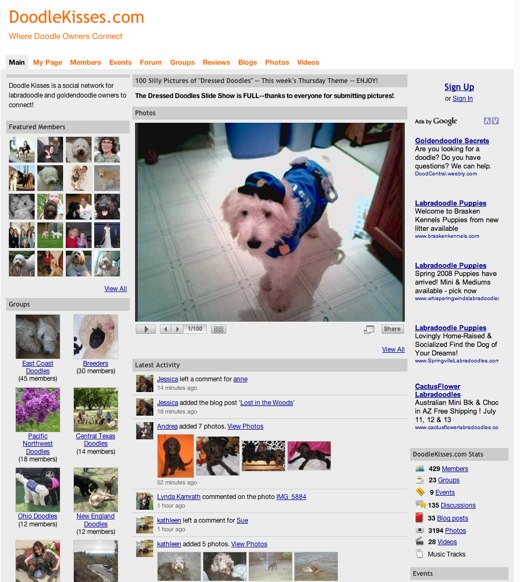 Doodle Kisses is a social network for Labradoodle and Goldendoodle owners to connect.
If you've ever seen a doodle, you probably already know what I'm about to tell you. Besides having an unbearably cute name, Labradoodles and Goldendoodles are probably the most adorable dogs you'll ever see. For those unfortunate few who are unfamiliar with these hybrid breeds, a Labradoodle is a Labrador-Poodle mix and a Goldendoodle is a Golden Retriever-Poodle mix — both of which result in big, loveable dogs!
Doodle owners are justifiably proud and can post all their awesome photos and videos for members to appreciate. Members utilize the forums by sharing tips on how to best care for their four-legged friends. Let your doodle romp with others at great doodle-specific events, such as the upcoming Northern Illinois Monthly Doodle Romp or the Southern California Summer Doodle Day in Hunnington Beach, Calif.!
Spread the doodle love at Doodle Kisses!