Energy indepedence with the PickensPlan
Ning Network Spotlight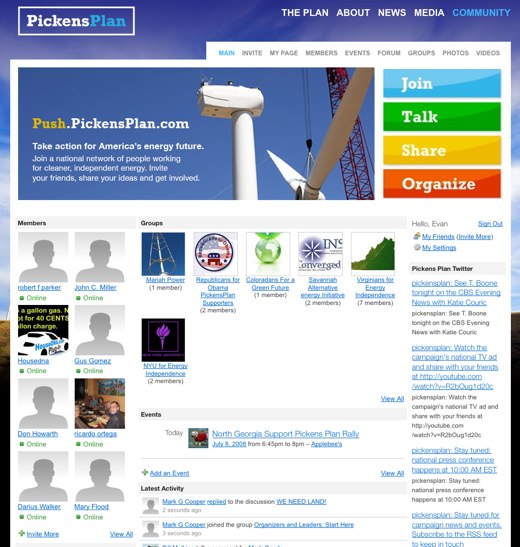 With oil prices hovering around $140 a barrel, ideas are constantly being batted about on how to reduce America's dependence on foreign oil. This morning, one man announced a plan to do that — and he's using social networking as an integral part of rallying people around his ideas.
T. Boone Pickens, a Texas billionaire who's made his fortune in the oil industry, wants America to turn to wind power to power its electric grid and to natural gas — a cheaper, cleaner alternative to gasoline — to power its transportation.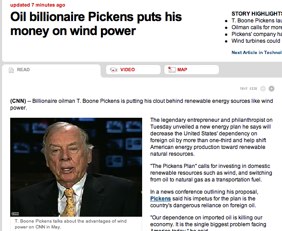 Already, he's making waves with the plan. News of his plan was the fifth-most popular story on CNN.com today, and dozens of newspapers and television stations have published stories. Yet, Pickens doesn't want to be the only one pushing his plan — he wants millions of Americans to join the effort, and he's set up a network on Ning to accomplish that.
As part of his announcement, Pickens announced a new Web site, PickensPlan.com, that he is using to promote the plan. He has built a fantastic social network right into his site, and he's calling the network Push.PickensPlan.com.
There, members can talk about the plan in the forum. Already the forums are ablaze with discussion, with more than 120 discussions started just since this morning. Members are debating the feasbility of natural gas and wind and thanking Pickens for his actions.
Members are also encouraged to "organize" by joining or creating groups, serving to rally around smaller niches within the network. You'll find Sportsmen for Clean Energy (59 members) or the simpler Nevadans for Pickens Plan (eight members). Or, join the more wide-ranging Organizers and Leaders: Start Here group.
Without a doubt, people are responding to Pickens' call. In a little more than 12 hours, the network already has more than 5,000 members, with more joining every minute. It's the new style of political organizing — where else can you interact with the leader of the movement himself?
So if you want to see energy indepedence through wind and natural gas, join up!