Face off at Hockey Bloggers
Ning Network Spotlight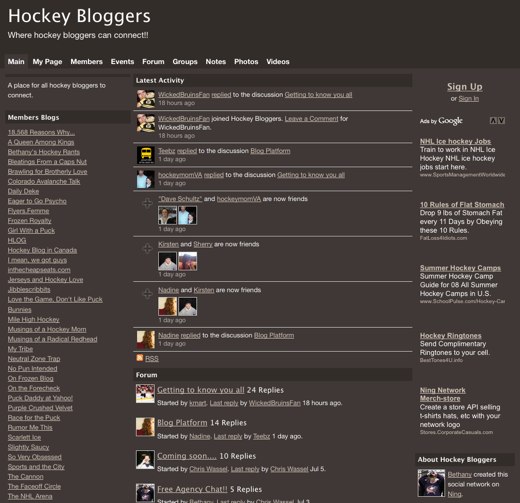 When they're not following the game on the ice or dishing out news off the ice, bloggers who cover hockey can connect on Hockey Bloggers, a brand-new social network devoted just for hockeyphiles.
From the outset, the network is clearly devoted to fostering a common bond between its blogging members. Bethany, the Network Creator, has compiled a list of all blogs written by members — and the list is posted front and center on the Main page. Almost 40 different blogs, from Colorado Avalanche's In the Cheap Seats to general NHL blog The Faceoff Circle, are listed.
Of course, members like to be able to put a face to the name, er, blog. Accordingly, the most popular forum discussion is "Getting to know you all," where each member is encouraged to say hello — with their name, blog and favorite hockey team. Members can also chat about the recent NHL draft or get expert on which blogging platform is best.
If you like to blog about hockey, skate on over to Hockey Blogs!